Advanced Laser Resurfacing
Laser face resurfacing is one of the most common medical spa treatments selected for the reduction of skin issues. The procedure involves directing short, concentrated pulsating beams of light at irregular skin. The laser removes layers of the skin precisely and heats the underlying layer to stimulate the growth of new collagen fibers. The skin that regenerates post-treatment will be smoother and firmer.
How Face Resurfacing Works
The advanced treatment of laser skin resurfacing can help alleviate a multitude of issues, including:
Acne or chickenpox scars
Skin scars or birthmarks
Age spots and liver spots
Sun-damaged skin
Fine lines or wrinkles around the eyes, forehead, or mouth
Enlarged oil glands on the nose
Those with very active acne may experience complications and further breakouts with this treatment. Typically, patients with much darker skin tones may also carry an increased risk for hyperpigmentation with this treatment, but advances in dermatology have improved the range of skin types available without complication.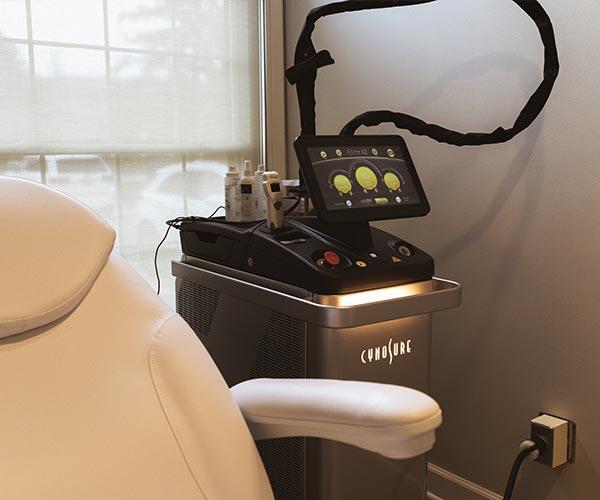 The Elite iQ Process
Using a melanin reader and two different wavelengths to address skin care concerns for specific skin types, the laser resurfacing process can be completed in less than an hour. A topical anesthetic will be used to alleviate discomfort during the procedure, and the surface area will be dressed for up to 24 hours.
Immediately after treatment, the skin may experience redness and sensitivity for a few days. Cleansing the affected area two to five times per day may be instructed by the staff. Avoid sun exposure and smoking as these will inhibit the healing process.
Camouflage makeup and sunscreen may be used post-healing to conceal redness and protect against sun exposure. The skin will continue to heal and improve over time, possibly lasting several years.
With the Skintel melanin reader, we are able to treat a much wider range of skin types - allowing all our clients to achieve smooth, beautiful skin.