Exfoliate, Extract, & Hydrate
MUSE medical spa uses patented HydraFacial technology to cleanse, extract, and hydrate the skin during its facials for the best skincare. We use an advanced Vortex-Fusion delivery system to exfoliate, extract and hydrate skin, and the spiral design delivers painless extractions.
Vortex-Fusion Facials
The tools used during our facials have tips with a spiral design, in conjunction with HydraFacial's proprietary vacuum technology and serums, creates a vortex effect to easily dislodge and remove impurities while simultaneously delivering hydrating skin solutions.
Cleanse + Peel: Uncover a new layer of skin with gentle exfoliation and relaxing resurfacing.
Extract + Hydrate: Remove debris from pores with painless suction. Nourish with intense moisturizers that quench the skin.
Fuse + Protect: Saturate the skin's surface with antioxidants and peptides to maximize the beauty of the skin.
Limited Side Effects & Downtime
Facial extractions typically come with the risk of redness and eruptions, but our patented technology helps alleviate concerns, resulting in a truly relaxing experience. Patients describe the sensation to be similar to a light massage, and are able to visually see the results of the pore extraction, leading to instant gratification.
The ease of the procedure also allows it to be combined with other non-invasive treatments to further clear the skin of abnormalities.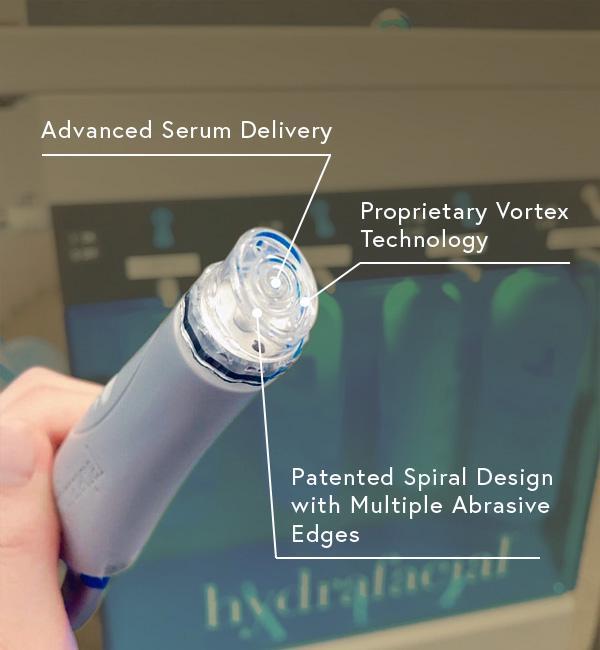 DiamondGlow Exfoliation
DiamondGlow™ is a unique face and body treatment that feels amazing and deeply cleanses and hydrates,
leaving skin healthy and glowing in just one treatment.
Using a diamond tip, the 3-in-1 system exfoliates away rough skin, suctions oil and dirt from inside your pores, and deeply infuses condition-specific serums directly into the skin.
Diamond tips with various coarseness are used to customize the treatment to fit your skin, and treat any part of your face or body. This makes DiamondGlow a great option for limiting skin concerns such as wrinkles, texture issues, and skin radiance - you will leave with skin that physically glows.