Hydrafacial
Exfoliate, Extract, and Hydrate
MUSE medical spa uses patented HydraFacial technology to cleanse, extract, and hydrate the skin during its facials for the best skincare. We use an advanced Vortex-Fusion delivery system to exfoliate, extract and hydrate skin, and the spiral design delivers painless extractions.
Vortex-Fusion Technology
The tools used during our facials have tips with a spiral design, in conjunction with HydraFacial's proprietary vacuum technology and serums, creates a vortex effect to easily dislodge and remove impurities while simultaneously delivering hydrating skin solutions.
Cleanse + Peel: Uncover a new layer of skin with gentle exfoliation and relaxing resurfacing.
Extract + Hydrate: Remove debris from pores with painless suction. Nourish with intense moisturizers that quench the skin.
Fuse + Protect: Saturate the skin's surface with antioxidants and peptides to maximize the beauty of the skin.
Limited Side Effects & Downtime
Facial extractions typically come with the risk of redness and eruptions, but our patented technology helps alleviate concerns, resulting in a truly relaxing experience. Patients describe the sensation to be similar to a light massage, and are able to visually see the results of the pore extraction, leading to instant gratification.
The ease of the procedure also allows it to be combined with other non-invasive treatments to further clear the skin of abnormalities.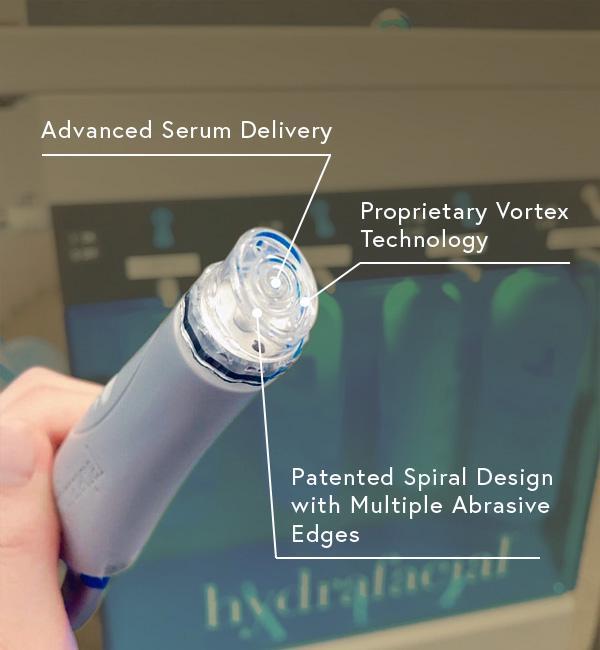 What results can I expect?
Many patients report seeing visible skin improvement and an even, healthy skin tone after just one treatment. The best results and hydration may last 5-7 days or even longer.
How many treatments are needed to see results?
One treatment per month is recommended for optimal results in improving the appearance of fine lines, wrinkles, brown spots, and oily and congested skin. Because there is no downtime, treatments can be continued indefinitely to maintain results.
30-Minute Treatment
HydraFacial Express
This treatment deeply exfoliates, extracts, and hydrates/protects the skin.
45-Minute Treatment
HydraFacial Signature
Includes manual extractions, neck/head massage and a mask of the service providers choice.
60-Minute Treatment
Deluxe HydraFacial
Our Deluxe HydraFacial includes all aspects of the Signature treatment, as well as LED light therapy and specialty skin care boosters that may help with:
Age Refinement (Helps reduce the appearance of fine lines and wrinkles)

Radiance (Improves the appearance of dark spots)

Restorative (Improves the appearance of skin tone, texture, and elasticity)

Clarifying HydraFacial (Intended for acne patients)
75-Minute Treatment
Platinum HydraFacial
Experience the ultimate HydraFacial! Begin your treatment with the detoxification process with Lymphatic Therapy. Continue with a deep exfoliation, extraction and hydrate/protection of your skin while addressing specific skin concerns with specialty boosters. This treatment also includes LED light therapy.
DiamondGlow
3-in-1 Exfoliation
DiamondGlow™ is a unique face and body treatment that feels amazing and deeply cleanses and hydrates, leaving skin healthy and glowing in just one treatment. It is one of the newest treatments for addressing a variety of skin issues.
What is a DiamondGlow Facial?
A DiamondGlow facial is one of the newest treatments for addressing a variety of skin concerns. It exfoliates the outermost layer of the skin with hydrodermabrasion technology to remove dead and damaged skin cells affected by sun damage and other concerns.
This process reveals a healthy layer of skin cells underneath, resulting in a healthy glow and a reduction in concerns like dullness, dryness, pigmentation, and acne.
What to Expect from DiamondGlow Facial Treatment
It may seem surprising, but a DiamondGlow Facial treatment generally only takes 30 minutes. As a non-invasive procedure, it's normal to experience a small level of discomfort, but you shouldn't experience any pain. You can also return to your normal daily activities after your facial with only a little redness. Results from a DiamondGlow Facial are also noticeable immediately after your first treatment. You'll notice your skin is brighter and plumper. You may also notice that your face is smoother and firmer, giving you a younger, fresher appearance. As an added advantage, the treatment continues to work for the next six to 12 weeks.
Damage from the sun such as uneven skin tones and hyperpigmentation can begin to disappear over time after your treatment, leaving behind glowing skin. You'll also notice a decrease in breakouts and congestion until your next treatment.
European
Detoxify and Cleanse
A European facial is designed for people looking to detoxify and exfoliate the skin. It will begin with cleansing, which removes makeup and any impurities present on the skin. After this is the exfoliation process, where dead skin is removed by an exfoliation masque combined with a hand massage.
European Facial Basics
From here, if you desire any extractions on the face, they can be done. If you do receive extractions, they'll be followed by disinfection, and then a soothing ampoule is usually applied. After this, a treatment masque is applied, along with a lymphatic neck and shoulder massage for relaxation. This masque will depend on your skin type and any skin conditions. Finally, a moisturizer with SPF protection for your skin type will be applied.
A European facial will leave you feeling refreshed with a healthy, glowing complexion. Let's look at some of the specific benefits.
Unclogs pores, and removes all impurities – blackheads, whiteheads and pimples

Detoxifies the skin and leads to better circulation of blood to the face and nearby areas
Relaxes tension in the face, and can reduce the onset of headaches between the eyes
Stimulates cellular renewal
Reduces lines, age spots and blemishes that are common in the face
Hydrates the skin and helps bring a youthful, rejuvenated look
AquaGold
Revolutionary Microneedling
Some people stay away from skin treatments because they don't like needles, or don't want to look like they've had work done. Now there's Aquagold Fine Touch, a new microchanneling treatment to improve damaged skin with no bruising or down time.
Aquagold Facials
Aquagold is a revolutionary microneedle device that contains 24 karat needles, each of which is smaller than a hair follicle. This device delivers products such as platelet-rich-plasma, dermal fillers, neurotoxin, retinol, and antioxidants directly into the skin.
Applying anti-aging products directly under the skin allows them to be absorbed much more effectively and with a much longer duration of effectiveness because these products do not have to bypass the natural protective barrier of the skin. Deeper penetration of these active ingredients results in a more healthy and vibrant appearance of the skin. Aquagold is a versatile tool for treating a few cosmetic facial issues such as:
Fine lines and wrinkles

Acne scarring

Decreased skin elasticity.

Loss of facial volume

Size of pores
How Aquagold Works
Depending on a patient's concerns and desired results, we are able to fully customize the solution to be applied with the microchannel device. Platelet-rich plasma (PRP) is the primary ingredient in the treatment. It offers the following benefits:
Stimulates collagen and elastin production to thicken and tighten thinning skin

Improves skin tone and texture

Smooths fine lines and wrinkles

Acts as an antioxidant and has hydrating properties
These benefits will not be seen immediately, but will improve gradually over months. The solution can be customized with other ingredients to maximize results.
BOTOX

in small levels at the surface of the skin, where it is not near a muscle, improves the size of the pores, and decreases redness over time. This can help acne. The muscle relaxants provide a natural, gentle smoothing of the skin.
Aquagold works best in a series of three treatments spaced 4-6 weeks apart. Results appear slowly and naturally as the PRP amplifies the natural growth factors your body uses to heal tissue.
Because the Aquagold treatment offers buildable results, it works well with other treatments. Used in conjunction with deeper dermal filler injections or after a laser treatment, Aquagold can enhance results. It is also an ideal addition to surgical facial rejuvenation, such as face-lift surgery, and can help maintain results.
Best Candidates
Aquagold is best used for patients who are looking for a softer, more youthful appearance, but do not require dramatic changes. Microchanneling treats the superficial layers of the skin to provide a moderate, though noticeable, improvement in skin texture, reduction of fine lines and wrinkles, and increase in collagen production.
While microchanneling is not a replacement for injectable treatments, the small size allows for treating tighter spaces, and the small volume of solution that is applied helps to ensure an even, natural result. It can be effectively used on the face, neck, and décolletage.
The procedure is virtually pain free. Unlike many dermal fillers injections, the treatment does not require an anesthetic. The skin of the face is cleansed, and the chosen ingredients are placed in the sterile tube of Aquagold device. It is then pressed into the skin in an overlapping pattern. Drugs and products are being delivered into the skin, not on it or underneath it. The device works with 20 tiny, precisely spaced needles delivering product into the skin at the ideal depth of 600 microns. The hollow needles hold the product. The needles sit on a platform, and are smaller than a human hair. The needles are inserted into the skin and then pulled back out, leaving the product behind. This creates a soft, natural-looking result, leaving the face looking smoother, tighter, and rejuvenated. The micro needles stimulate cellular renewal in the upper layer of the skin through gentle needling, while the solution is dispersed into the dermis to enhance results.
PRP treatment is:
Safe because it uses your own natural elements, i.e. your blood. PRP is not a new treatment. Hospitals have used PRP since the 1970's to improve musculoskeletal problems.

Rich in growth factors.

Long lasting. After a series of three treatments, results can still be recognized at 12-18 months. Maintenance treatments are recommended every 3-6 months.
This is a quick and simple treatment that is performed in the office. Patients will need to have their blood drawn and spun, bringing the appointment length to one hour. We offer two types of Aquagold treatments:
Aquagold Vampire
Consists of drawing the patient's blood and deriving concentrated platelet rich plasma from it.

Uses the Aquagold micro channeling device to place the PRP into the dermis of the skin.

Has a downtime of 1-2 days of mild redness.

Three treatments are recommended spaced 4-6 weeks apart.
Aquagold Deluxe
Consists of drawing the patient's blood and deriving concentrated platelet rich plasma from it.

The PRP is mixed with Botox muscle relaxant and a Juvederm hyaluronic acid filler into the Aquagold device.

Uses the Aquagold micro channeling device to place the solution into the dermis of the skin.

With this mixture, patients can expect more hydration, decrease in daily facial redness, pore size reduction and oil reduction.

Has a downtime of 1-2 days of mild redness.

Three treatments are recommended spaced 4-6 weeks apart.