Fractional Laser Skin Resurfacing
The ResurFX™ fractional laser is a state-of-the-art technology for skin resurfacing. Using non-ablative methods, meaning it does not destroy or ablate the skin cells, the ResurFX™ laser is capable of treating a variety of skin irregularities all over the face and body.
What is ResurFX™
ResurFX™ is a highly effective fractional, non-ablative laser that keeps the skin intact, stimulates collagen growth, and tightens the underlying skin. The laser delivers light energy into the skin and heats deeper layers. ResurFX™ is FDA approved and unlike other similar laser treatments, it typically only requires one pass making for a faster, more comfortable experience. This treatment can target common problems such as acne, scarring, fine lines, wrinkles, and more. ResurFX™ is safe, effective, and has minimal "down time" following the procedure.
If you are looking for subtle brightening and evening of your skin tone and texture, or are looking to remove issues such as acne scars, discoloration, age spots, lax skin, fine lines, and wrinkles, ResurFX™ treatments may be right for you. Our expert practitioners will identify the best treatment for your individual needs.
What to Expect?
Prior to receiving treatment, you will have a consultation with one of our providers. During the consultation, you will discuss your concerns, ongoing skincare routine, skin conditions, and health history. Your provider will then recommend a treatment plan to target your specific conditions.
In some cases, you may need to return to our office at a later date to begin treatments. We recommend avoiding tanning beds, sunless tanner or tan enhancer caps, direct sunlight, chemical peels, skin injections, retinols/Retin-A or exfoliating facial cleansers with ingredients such as glycolic acid, lactic acid, or salicylic acid at least a week prior to your visit.
Your provider will begin by cleaning the area to be treated to ensure there is not sweat, dirt, or makeup on the skin. For all treatment areas, you are given a dark, protective cover for your eyes. The ResurFX™ device gently touches the skin as your provider moves across the areas to be treated. The treatments can take anywhere between twenty minutes to an hour. Most patients describe the treatment as quick, comfortable, and with minimal to mild pain.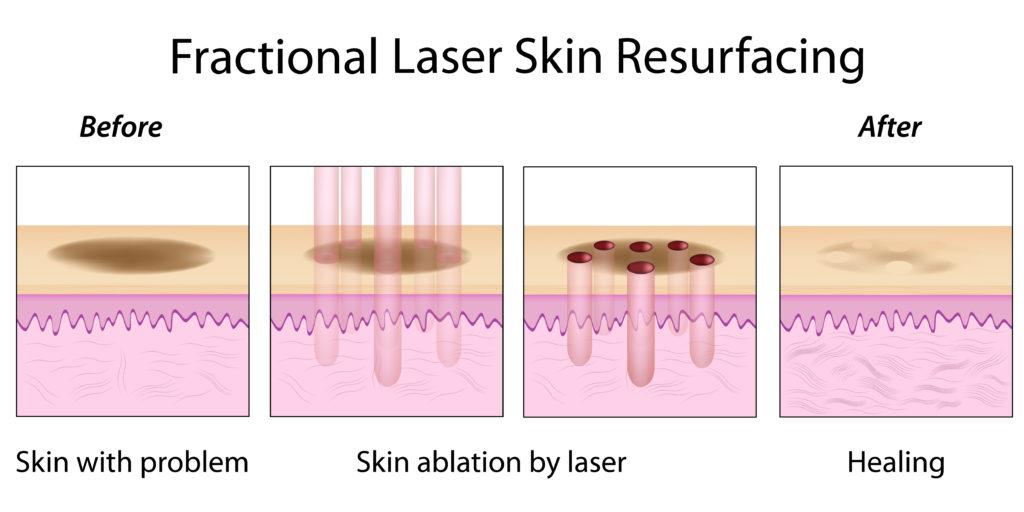 After your ResurFX™ treatment, swelling and redness of treated skin is normal and can last up to one week after the procedure. Further mild issues may occur post-treatment:
Mild to moderate skin irritation can occur that is similar to a sunburn.
Avoid makeup 2-3 days after your ResurFX™ treatment.
Avoid direct sunlight and apply sunscreen with an SPF 30 and the ingredient zinc oxide for one week after the procedure.
You will also be provided with more specific guidelines in the office.